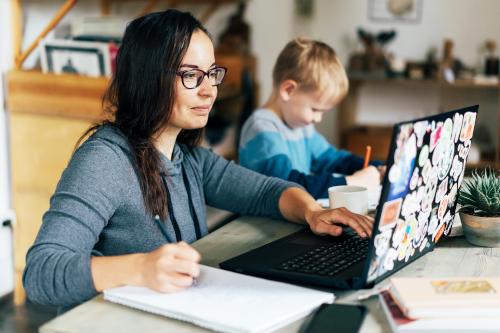 Enjoy a flexible schedule. Take breaks at any moment, and eat lunch or a keto snack at any time you want.
Save money. Lunch is expensive if you work in a city or downtown. You can save big time by going to the store and preparing food.
Forget crowds and traffic. No stuffing yourself into a rickety subway.
Custom environment. Set up your noise level — somewhere between silence to being at the front row at a Ted Nugent concert. And if you're mindful of your workspace ergonomics, you can create a stronger rhythm for your workflows.
Comfy clothes. Wear those sweatpants from college, or the leggings your friends don't know you own.
It's easier to make calls. You don't have to scramble for a conference room or put up with a chatty co-worker.
Weekend to-do's. That Mt. Everest laundry pile waiting for you?
No office distractions. Avoid co-workers debating the merits of cryptocurrency, sirens wailing outside your window, the AC kicking in as you hide your icicle tears.
Zero commuting.
More time with loved ones. Take care of a sick significant other at home.